This is the page on the website we are most proud of! This is where you will see the words of our Not Out Travel community. If you would like to contribute to this page, we'd love to hear your thoughts. Please email any comments, suggestions or pictures from tours to [email protected].
Thanks for providing a great tour for us. It all went like clockwork.
The organisation was superb. I was restricted to seeing the second and third ODI's because of work. Charlie sorted out a bespoke package for me. The transfers to and from the ground were great too. Dhaka and Chattogram are busy cities and needed local expertise that was provided. Seating was excellent. I thoroughly recommend Not Out Travel and will tour again in the future.
10/10 would reccomend Not Out Travel.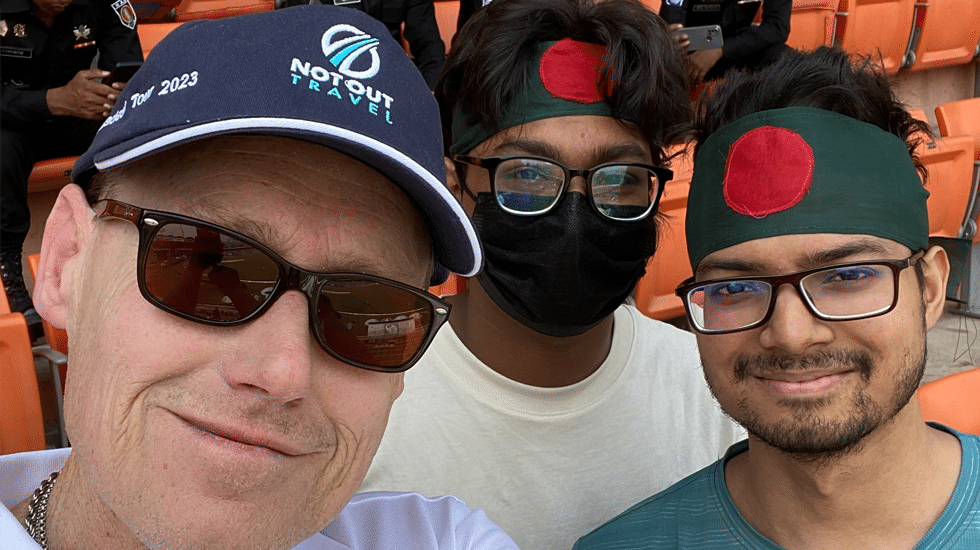 The big plus of travelling with Not Out Travel is the willingness to deal with any 'issues' as soon as they arise. The NZ the weather certainly threw up some challenges! There is a clear and real desire to ensure that clients have an enjoyable experience, and they go the extra mile. We look forward to travelling with Not Out Travel in the future.
Not Out Travel were very well organised and helpful. Charlie went out of his way to find flights to my requirements and they were much cheaper that some alternatives. The Tour Managers were top notch. I was not well for the early part of the tour and Nick and Carole kept an eye on me. Customer service and flexibility are the key words and Not Out Travel go out of their way to achieve them.
This was our first tour with the newly formed Not Out Travel. It was great to see so many friends from previous tours and to meet new ones. We were weather affected arriving into Auckland but regular communications with Charlie ensured everything went smoothly. The standard of accommodation throughout was good, the cricket obviously superb. The Tour Managers worked hard throughout and ensured the trip went smoothly. The final dinner was a lovely evening with Marcus Trescothick proving to be a good speaker. Definitely will consider using Not Out Travel again, communications were excellent and company as good as ever, and can't recommend New Zealand highly enough to any cricket lover.
Not Out Travel offer a very professional and flexible touring experience. Their expertise in the industry across all the touring countries ensures a very relaxed and complete experience. I had an unforgettable trip to NZ with a perfect balance of exciting cricket, amazing scenery, adventurous and cultural experiences. Great company and very sociable fellow tourists made me excited for the next time!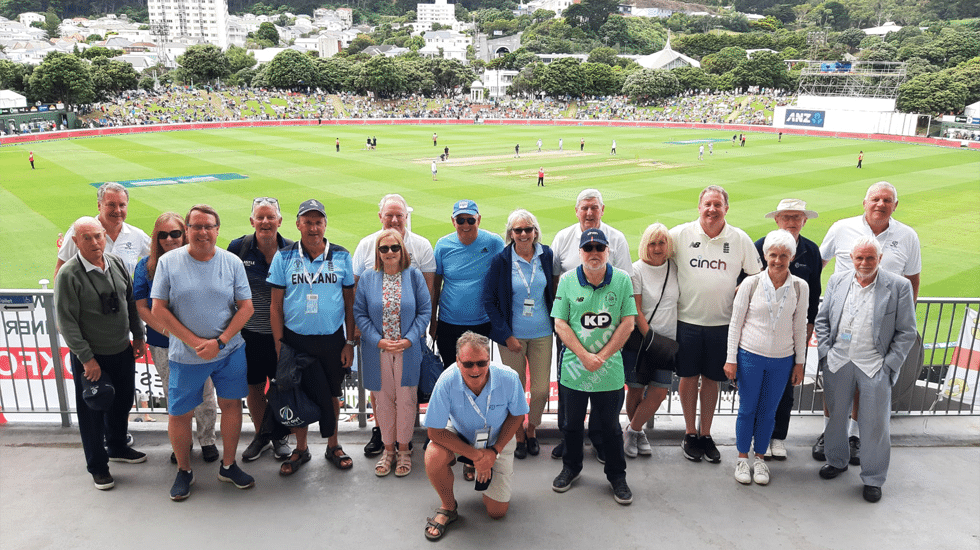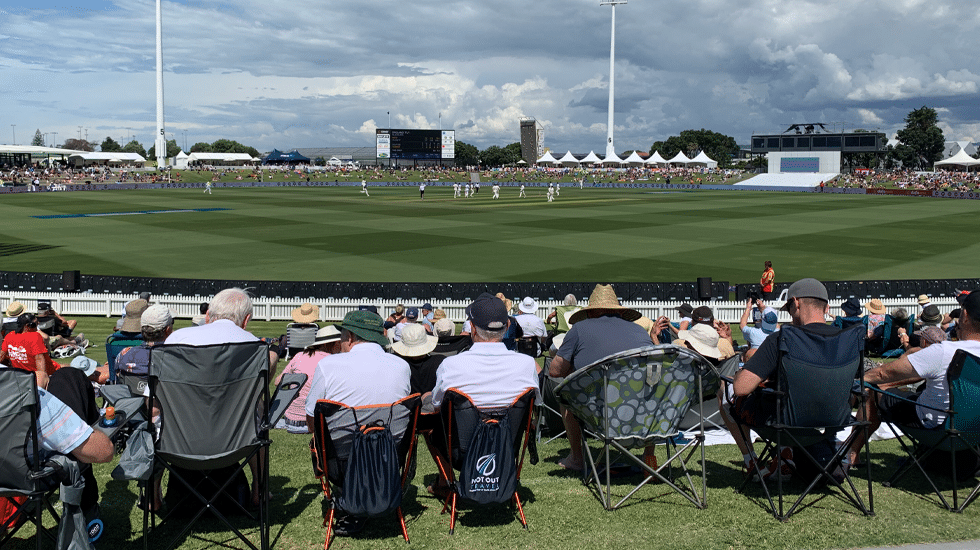 Simply the Best! We found the Tour Dashboard very accessible and easy to use. Pre-departure booking and arrangements worked very well. A very enjoyable and well organised Tour – really pleased to get back on tour after escaping from Sri Lanka and an enforced three year break. Charlie, Bob and Des did a great job and for us facilitated and managed another great cricket tour. Well organised, flexible, friendly and relaxed – as ever nice to be with a good group of similar minded cricket lovers! There was also an excellent pre-tour extension to Ivory Tree Game Lodge. Looking forward to the West Indies in December!
Having previously travelled with other tour companies on various tours, I now know what the gold standard is for cricket tours. Charlie and his team are the most professional company I have ever travelled with. Their experience and knowledge was a pleasure and nothing was too much trouble for them to arrange even if it was not included in the package. Not Out Travel is my go-to cricket tour company in the future.
A truly enjoyable tour in a beautiful country. Well done to Charlie, Des and Bob for their organisation and attention to detail. Hopefully see you in the Caribbean in December.
For a fledging business Not Out Travel have certainly hit the ground running. From the time of booking (on Xmas eve) they have been organised, efficient and attentive. All accommodation was of a high standard and conveniently situated for both the grounds and restaurants. A range of interesting tour extensions and excursions were also offered. Their USP is their personal approach and flexibility with nothing too much trouble. They also show the value of having people at every level who truly understand the requirements of their customer base. Many thanks to Charlie, Bob and Des.
As regular cricket tourists, we were disappointed when our regular operator was bought out, and were very happy to follow Charlie and his team in their new venture. We are so pleased that we did – our small group had an unforgettable experience, first in the incredible Hunza Valley and then at one of the all time great Test matches. The Not Out Travel service is flexible and customisable – not a hint of the dreaded 'one size fits all' approach of some of the larger tour firms. Tours and excursions are original and well planned and all the match logistics are handled with great attention to detail. If you want to fly from a different airport or tailor your package in any way, nothing is too much trouble for the Not Out Travel team. We are counting the days until our next Not Out Travel tour.
I would like to offer my thanks to everyone at Not Out Travel – Pindi was a fantastic experience, just wish I had been able to continue to Multan & Karachi! Thanks to Charlie, Nick, Bob, and our fantastic local guide Amjad for the organisation which was excellent.
Thank you Charlie, Nick and Bob for such a wonderful 4 weeks. The memories will stay long. Big thanks especially go to the original Hunza 8 who shared such a unique experience. Well done England for great cricket and Pakistan for great warmth. Maybe see you all again in 2 years time. Hopefully I can return and once again sample the culture and more importantly the plastic chairs. If Carlsberg made holidays… we just had it !
Let me add my sincere thanks to Charlie, Nick, Bob and Amjad for being responsible for a fantastic tour. I wish I had done more tests! I'm already looking forward to the next one with the No. 1 cricket supporters tour company NOT OUT TRAVEL. The effort put in by all to ensure a seamless trip holds good for a successful business and more fun with friends and like minded people. Best wishes to all the team and fellow travellers.