27th JANUARY – 1ST FEBRUARY 2023
England Tour of South Africa 2023
Why not read our customer testimonials, or check out the packages we offered for the South Africa 2023 tour…
All Three ODIs & Cape Town
It was great meeting up with our group of intrepid travellers in our lovely Jo-burg hotel after a few years of isolation. Some had arrived directly from overseas and others had come all bright-eyed and bushy-tailed fresh from a wonderful safari game lodge experience close by in the Pilanesberg area.
The adjacent Mandela Square in Sandton did not disappoint in its offering of splendid restaurants with old friends and new faces combined to form a happy unit.
Our trip by coach of 250-miles through the flatlands of the Gauteng (Transvaal) and Free State Provinces to Bloemfontein was a ground-breaking journey for Not Out Travel and our merry band of brave pioneers crossed frontiers seldom visited by tourists.
A visit to the Women's War Memorial and Museum was an eye-opener for many, revealing the hidden history of the humanitarian angle of the second Anglo-Boer War and discovering a heroine of the Boers. She was an English woman named Emily Hobhouse who sailed to England to address Parliament relaying the true facts of the horrendous conditions in the concentration camps, set up by the British forces, of women and children where thousands died, mostly children.
The Big Hole In Kimberley was awaiting our visit and we had a good vantage point looking at the site that used to be a flat-topped Koppie and has now reversed profile and is a big hole some 790 feet deep. The deepest man-made hole on earth. Amazing what the search for riches in the shape of diamonds can achieve! I know of one lucky lady in our group who took one home with her…!
A dozen strong souls went for a walk across the veld to possibly be one of a handful of Englishmen and women to have seen the etchings on the rocks dating back 2,000 years at the Wildebeest Kuil Rock Art Centre. They were scoured onto the rocks by the first inhabitants of Southern Africa – the San (sometimes known as Bushmen).
Our accommodation in Kimberley, The Kimberley Club, was a delight for those interested in history, full of mementos of the rich diamond days of Cecil Rhodes, and was a stopover for the Royal Family in 1947 on their SA tour. Our travellers had a wonderful time recreating the balcony photo!
A bit of a highlight for many was mixing with the Protea players in a great pub near the Big Hole (very) late into the night. de Kock, Markram, Miller, Jansen and Nortje were all good ambassadors for their side and much joviality was the result.
Oh, the cricket – it had great highlights from both teams and England lost this series 2-1. A small compensation was that the cricket grounds were quite charming, reminding many of smaller grounds back home.
Cape Town, the Mother City, provided us with its world-class tourist venues. The trip to the Winelands of Franschhoek and Stellenbosch proved to be an abundant success. Enough said.
Of course the Waterfront, the beaches, Robben Island, Table Mountain, the Red Bus and the Commodore Hotel all helped to make our visit something not easy to forget!
I hope to see you all soon on a Not Out Travel Tour…
Yours in cricket and Not Out Travel,
Des Newton.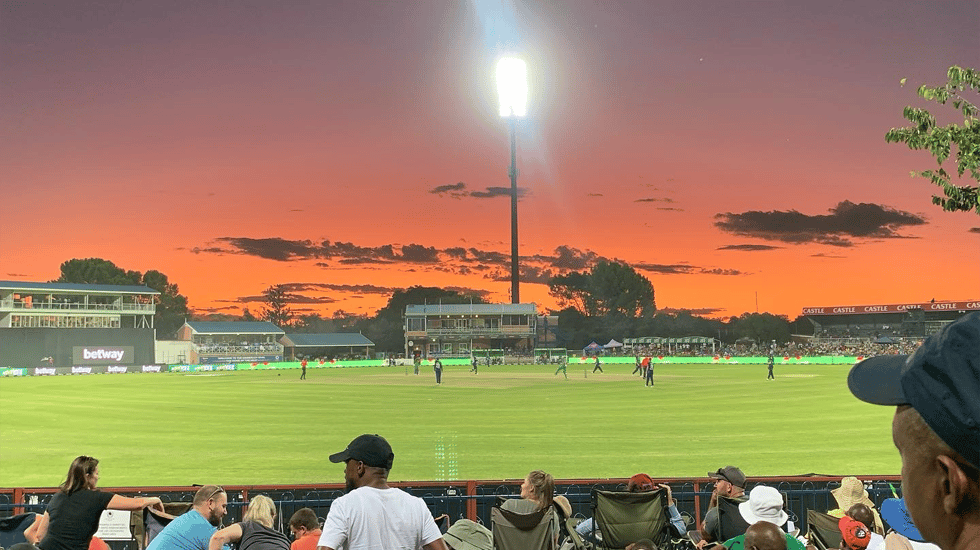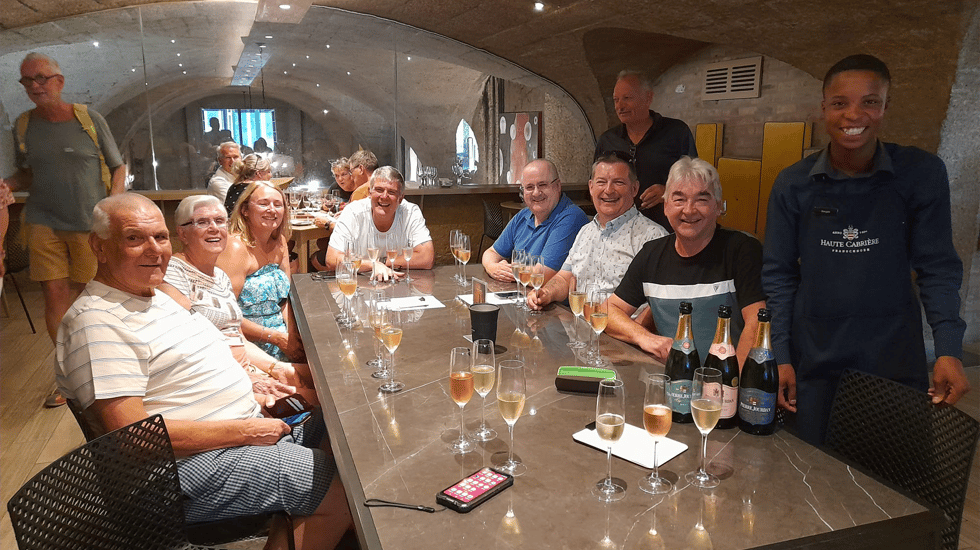 All Three ODIs & Game Lodge
The excitement returns and what a wait we've had to return to South Africa all down to "you know what"… Three ODI's are the balance of a tour in 2020 which was cancelled mid-term in Cape Town. Interestingly we are playing in the lesser-known cities of Bloemfontein and Kimberly due to Newlands and Paarl being contracted out to the new SAT20 franchise teams matches.
My tour starts at Johannesburg Airport to meet and greet familiar and new faces with onward transfers to Pilanesberg National Park. We are staying at the Ivory Tree Game Lodge for three nights. Welcome drinks are followed by an excellent dinner served by the pool to the accompaniment of the sounds of Africa. It's an early night after hours travelling for most with a 5am call for the first game drive.
The next three days fall into a pattern of early morning game drives, breakfast, chill out by the pool, later afternoon game drives and dinner. We are lucky enough to see the "big five" except for buffalo but are treated to a family of cheetahs with her three cubs.
Onto the cricket and the Bowlers group all meet up in our familiar hotel in Sandton, The Garden Court. Welcome drinks concluded and guests head off for dinner, many heading for Nelson Mandela Sq and The Butchers Grill for steaks and wine, and more to the point great value for money!
Bloemfontein…
Batters and Bowlers tour are all on the same bus leaving Johannesburg for the five hour drive we are entertained by the one and only Des Newton, my colleague waxes lyrical about his homeland and has us all in tears with some of this stories.
Bloemfontein, also known as Bloem, which is South Africa's judicial capital and captial of the Free State province.
1st ODI … England let a dominant start to its run chase slip, with South Africa winning by 27 runs. Jason Roy, making a return to form, with 113 and Archer, back in the England team for the first time in nearly two years, returned 1-81. Curran led the England bowling with 3-35.
Tony Horn is our guide for the Bloem excursion. Starting up Naval Hill with its panoramic view of the city then driving through the unique Franklin Game Reserve, where we encounter Giraffe and Zebra. We head out to the Sannaspos Battlefield, then onto the Woman's War Memorial and Museum. Lunch is at a fabulous pavement café, with musical accompaniment, before concluding our tour in the afternoon.
2nd ODI …Harry Brook and Jos Buttler led England to an imposing total of 342 but South Africa rose to the challenge to chase a historic win at the Mangaung Oval. Temba Bavuma was the star, who silenced his critics with a masterful hundred. South Africa secured victory by 5 wickets and 5 balls remaining, completing the series victory.
Kimberley…
Next stop Kimberley, a two-hour drive into the Northern Cape where we arrive to an absolute deluge of rain. Our guest house accommodation is lovely with rooms backing onto verandas and the pool. We encounter our first real issues with "load shedding", South Africa's poorly maintained power infrastructure suspending electricity supplies on a rotating two hours schedule, but our guests take it in their stride.
Next day our excursions take us to the biggest man made hole in the world – the "Kimberley Big Hole" with the opportunity to see how diamonds put this town on the world map. We then move onto the McGregor Museum and Wildebeest Kuil Rock Art Centre.
Our Farewell Dinner at the Kalahari Lodge, with guests Marais Erasmus (International Umpire) & Dean Wilson (British Journalist), gives us an interesting insight into the world of umpiring. An enjoyable end to the evening with a few drinks around the pool… under the solar spotlights, before load-shedding ended around midnight!
3rd ODI … Jos Buttler and Dawid Malan strikes superb centuries and Jofra Archer takes six wickets, as a resurgent England secure a 59-run victory over hosts South Africa in the third and final one-day International. The Kimberly Diamond Oval is a lovely ground and nearly filled to capacity creating a great atmosphere.
All too soon the cricket is over, Des heads off to Cape Town with one group while I'm back with the other in Sandton for the final night before departures to the UK.
It's been a whistle stop tour. The cricket has been highly entertaining, and the Game Lodge was fantastic. Thank you for traveling with Not Out Travel, it's been great fun being your Tour Manager… until the next time!
Bob
Not Out Travel Tour Manager