England Tour of Pakistan 2022
Why not read our customer testimonials, or check out the packages we offered for the Pakistan 2022 tour…
All Three Tests & The Hunza Valley
This has been a cricket tour which stands completely on its own. We certainly saw some adventurous cricket, including 3 wins out of 3 for England; we also saw new records set, one being the youngest player ever to play for England achieving a 'five for' on his debut. The cricket…. fantastic, but what made this a truly spectacular tour was the country, the people and the climate. A country that so few of us had any experience of beforehand.
Pakistan is a large country of 250 million people, very few of which appear to have seen or met Europeans. Porters would jump into the lifts and say "selfie," and schoolchildren the same, excitedly shouting "selfie," and so on. Everywhere we went in this fine country, the population were ultra-friendly.
Throughout our stay we did not see any rain, just bright blue skies, perfect for cricket and consequently there were no interruptions to play, just a few early finishes due to the gloom of dusk. Nevertheless, each game ended in a result. Players from both teams produced note-worthy performances and the leadership of England was exceptional.
After a month spent in this country, it is difficult to report on all the wonderful things that we have seen. The flag lowering ceremony at the Indian Border, the Julian Monastery at Taxila, Mosques, Museums, the Jinnah Mausoleum, and many more fantastic sites.
Believe me I could go on about the quality of the antiquities we saw but as a cricket tour at heart, we visited and toured test stadia and enjoyed the amazing museum at The Gaddafi ground in Lahore plus a dinner with Aggers and Waqar Younis.
Before the Test Matches started, we ventured to what has to be one of the world's greatest places – the Karakoram National Park and the Hunza Valley which forms part of the old Silk Route. I cannot adequately describe the beauty of this mountainous area and pictures cannot capture the atmosphere in the region. Our hotel was at 2000 metres and we were viewing numerous peaks at over 7000 metres. Suffice to say this was, in every way, genuinely special. I could rave on for ages but let me just say, please put this on your list of places to see.
Before embarking on this tour, I had experienced views of scepticism and doubt, believe me, nothing could be further from the truth in reality. This inexpensive country was one of the highlights of my 45 years of touring with sport. To see a 3-0 win; witness so many incredible sights; enjoy the company of so many like-minded Not Out tourists, I can only repeat the famous words of Max Boyce,
"I was there!"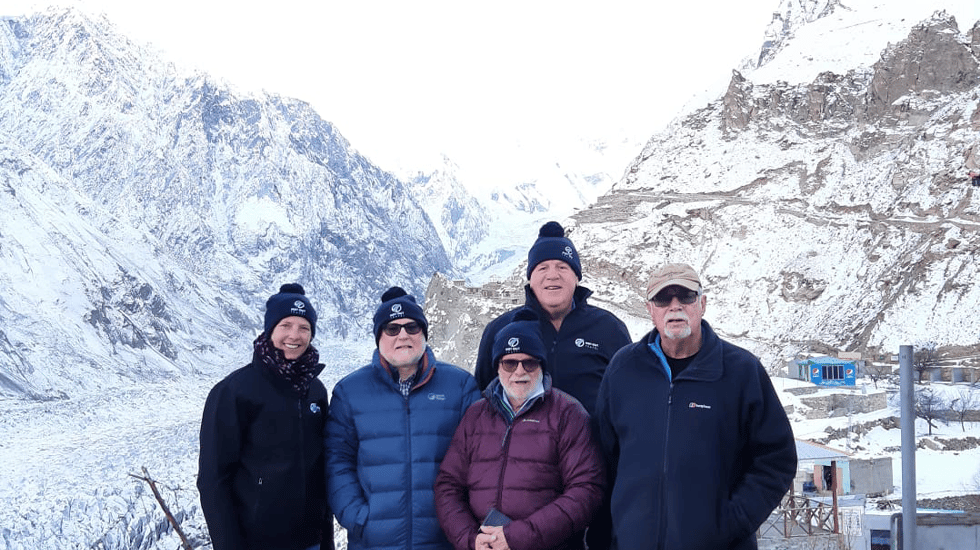 A first for us all! This, my first visit to Pakistan, was filled with great expectation, trepidation and I have to admit, great excitement. Arriving in Pakistan, meeting my guide and the overall genuine response to our presence from everyone you met gave a warm glow of 'here we go…'
Rawalpindi…
Our first priority is finding a decent cash exchange rate, and luckily just down the street are a row of local money exchange shops only too pleased to do so at a far superior rate than the hotel. Consumption of alcohol is strictly controlled, but our hotel is one of the very few that has a bottle store. It's literally a 'hole in the wall'! We were able to purchase beer and gin (no tonic) etc. Not Out Travel booked a spare room that we can use as a meeting room/bar throughout our stay.
Guests start to arrive at the airport from the UK plus our group who have been to The Hunza Valley on a pre-tour excursion. Mr Joyce I'm sure will be waxing lyrical about this in his report (see above)!
It's a real pleasure meeting up with regular and new guests to the first welcome drinks event of Not Out Travel!
The excitement of the first test is owed to Ben Stokes who helped us to a 74-run victory with a bold declaration and a thrilling final session with failing light. England had scored the most runs in the first day of a Test in cricket history, a result looked unlikely especially after their 657 was followed by Pakistan's 579 on a flat wicket. One of the greatest Test match victories we have ever seen and most definitely the best game of cricket I have personally experienced.
Jonathan Agnew joined us at our farewell dinner for guests leaving after the first test, and on our final day in Pindi we travelled to the ancient city of Taxila.
Multan…
An early start for our road-trip to Multan. Once leaving the city we travel on the highway stopping occasionally for refreshment breaks arriving at Multan mid-afternoon. We had been warned that security was going to be very tight our hotel is within the team's hotel secure area with all businesses, schools, roads etc. closed with armed guards everywhere.
We had transported our beer stock with us and room "301" was soon open to quench our thirst, after which all enjoyed dinner at The London Courtyard Restaurant which was a superb meal. The jumbo prawn starter was huge, a meal in itself, and for less than a "fiver" – amazing value.
Traveling around Multan we are constantly stopped to shake hands, take selfies etc. the people are just so hospitable even to the extent of offering to pay for meals.
Day one of the test match and I'm off to Qatar to watch England vs France (ouch). I return for day three just in time to watch England win on day four. Pakistan were in a strong position but England made a tremendous comeback, Pakistan finally losing the match by 27 runs.
With an extra day on our hands the South Punjab Cricket Association hastily arranged a match at an ex-government school ground between foreigners and locals with the foreigners just winning, guests from all touring groups participated as players and umpires in an entertaining day.
Lahore…
Arriving early afternoon, we check into our hotel before heading out to the Wagah Border between Pakistan and India for the daily ritual of Beating Retreat border ceremony. The ceremony begins with a vaunt parade by the soldiers from both the sides and ends with perfectly coordinated lowering of the flags of both the countries.
This is followed by a full day sightseeing. This includes the Walled City, Shahi Hammam (Royal Baths), Wazir Khan, a Mughal-era Mosque, Lahore Fort to name but a few of the attractions. Later we head to the Gaddafi Cricket Stadium where we meet Yahya Ghaznavi, the GM of the library and museum, who guided us around.
Karachi…
After a short flight we arrive at the largest city in Pakistan over 20 million people on the coast of the Arabian Sea and we are straight out a sunset drive and dinner at Kolachi restaurant, recommended by Nick and Charlie from their inspection and rated the number one restaurant in the city.
England powered to an eight-wicket win in the third and final Test early on day four. Starting the day needing a further 55 runs for victory we reached 170-2 to secure victory its second successive win with more than a day to spare in the first Test tour to Pakistan in 17 years.
The 18-year-old Rehan Ahmed (5-48) the youngest player in test cricket to take a five haul on debut while Harry Brook, who scored 111 in Karachi, amassed 468 in five innings, deserved man of the match and series.
Our farewell dinner with guests Jonathan Agnew and Waqar Younis gives us an interesting insight into Pakistan cricket who topped off a wonderful evening.
Conclusion…
The cricket has been extraordinary with three test matches scoring at over five runs an over and taking all sixty wickets. Without doubt entertainment of the highest calibre.
We arrived potentially slightly apprehensive about this tour, but it has been a wholehearted success. Thank you, Pakistan, you have been memorable for all the right fabulous reasons – the warmth, kindness, generosity and fun shown to us has been amazing we will be back in two years… Inshallah.
Finally, to you the members of the Not Out Travel community who joined us on our first ever tour, it has been a pleasure having you on tour thank you for traveling with Not Out Travel. I hope to see you all again on tour soon!